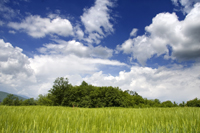 This morning we are designing for a real estate-related project and reminded of the famous line that it's all about "location, location, location." Well, it turns out that in web design, it's all about "photos, photos, photos."
What do we mean?
We mean that you can't use a cellphone pic from your friend's birthday party as your bio photo.
We mean that, no, your product will NOT look good photographed in your kitchen with the garbage pail in the background.
We mean that, sorry, we can't use copyrighted images stolen from a google image search.
We mean that if the photo is grainy, dark, low resolution, or in any way blurry – please, please, please don't use it.
What photos should we use?
Here are some best practices for a clean-looking website:
DO use a professional photographer for your bio photo and product photos.
DO purchase copyright-cleared images from stock photo websites.
DO use your own original photos and artwork of high quality.
DO ask your professional designer to touch up photos if necessary.
The quality of your images will directly impact the quality of your website.
We think that if you value your website and want it to look good, then you should use only the best images or no images at all.
Believe us, if what you do is worth it, then your website is worth it.